Diary of Timmy's University Adventures
"Universities exist for the purpose of free exploration and education."
(not sure who said that)
My parents chose a progressive private university for me, part of a health sciences research facility. The whole place feels very futuristic. The staff manage the university with a holocratic system, where everybody can have a say, not just the majority.
Being also a research facility, students were effectively lab bunnies. Therefore, all discussions were very open and direct. No need for embarrassment at all. No medication was given. No students were hurt in any experiments, but we had a lot of fun.
Although students can go out anytime, they live a sheltered life since all they need is on campus, like auditoriums, science labs, library, shops, a sports centre with a big pool, and the student accommodation with plenty of potential friends and sex partners. The university understands that we are all adults (18+) and doesn't interfere in moral matters. Posters and signs all over campus promote safe sex and loving relationships.
The senior students are meant to look after the freshers as caring partners, help them settle into university life, and teach with practical experience. This led to many intimate friendships beyond the days of student life.
This university doesn't have old fashioned or religious hang-ups, but encourages students to be themselves in tune with their nature, to explore science with logic and reason. Think of it like a modern form of ancient Greece or a monastery, dedicated to research and study but with unique freedoms, like nudity, creative clothing or swimwear, and free love. For everyone's safety, access is limited to staff and the 600 residential students only, not the general public.
My Studies
In October began my studies in sports science and psychology, the biggest faculties at this university with the most students. The first term was quite busy, taking care of admin stuff and attending all the lectures so I knew what was going on. One of the psychology courses on offer was Human Sexuality. I signed up for that as it included interesting field studies, with practical homework in teams. There was also a chance to join swimming teams, a canoeing team, and the gay student union.

My Room
Campus accommodation was arranged in a nice building over several large floors, some for women, some for men, some mixed, one for our lesbian sisters, and one for gay boys like me. Each floor had a shared kitchen and large shower room with garden chairs under each shower. How unusual. The shower room doubled up as social common room where we could hang out and have fun. It also had very good laundry and clothed drying facilities in a side room.
The accommodation service had a system to match students with similar interests, based on a fairly detailed questionnaire that came with the application form. They used their psychological research expertise to create harmonious sharing, which worked quite well. If it didn't, students were free to swap, but that rarely happened.
After staying in a cramped rented room by myself during the summer, I now moved into a large room in the university dorm with en-suite bathroom, kitchenette and a large double bed, which I would have to share with another student. They said they can swap the bed for twin beds if we wanted. We'll see.
They said, my roommate would arrive the next day, that he also studied sports and psychology since the previous year, and is also in a swimming team. He was to be my senior. Hopefully he'd be nice and I could get along with him.
After I settled into my room, I took a walk to check out the campus, a beautiful facility spread out in a park where students walked around in beautiful creative colourful clothing.

Dress Code
Clean, smart and functional. Being a sports oriented university and a fairly closed community, we didn't have old fashioned suit and tie uniforms. For health reasons boys were asked not to wear tight underwear or speedos for longer, as they limit blood supply to balls and penis.
Unless a sports activity required special clothes, we should wear quick drying white PE kit: Unlined nylon shorts without underwear (for hygiene reasons) and a white T-shirt. Initially I felt shy wearing this outfit, as it turned a bit transparent when wet. But after a few days I realised that everybody on campus wore this, even in the pool.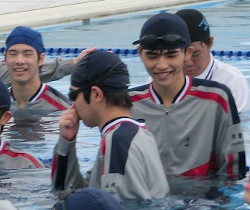 We wore comfy quick drying tracksuits around campus for lessons, but also for leisure and social gatherings. Each student had several tracksuits, in case they got wet. This allowed for a carefree lifestyle like swimming after lessons or sports.
The Gymnasium
The sports centre was called the "Gymnasium", from the ancient Greek noun γυμνάσιον (gymnasion), "gymnastic school", derived from the adjective γυμνός (gymnos) meaning "naked", and the verb γυμνάζω (gymnazo), meaning is "to train naked". Nudity was not mandatory, just a freedom to choose within the sports centre and in the adjacent student accommodation.
The outdoors track and field was called the Stadion (Greek: στάδιον). A few students were running around in the warm rain, some naked, most in soaking wet sportswear. I began to realise the benefits and comfort of the university dress code. Walking around the sports grounds I got soaked to the skin in the heavy rain.
The indoor hall was called the Palestra (Greek: παλαίστρα), the name of ancient Greek wrestling schools. Events that did not require a lot of space, such as aerobics, yoga, and wrestling were practised there.
A few guys were wrestling in one corner. It looked gentler than usual, so I asked them for details. They said it was not competitive, but main training goal was fitness, agility, and pleasure.
"Pleasure?" I asked. They said, the goal of a match was to make your partner cum before you did. I knew that I would lose such a match quickly due to my little problem (see below).
However, they talked me into giving it a try. I changed into one of their brand new comfy singlet suits and soon had an embarrassing boner. They were happy that I picked up the spirit of the game so quickly. A cute guy quickly flipped me onto my back and rubbed his penis against mine. I didn't have a chance and shot a lot of white stuff into the singlet and thus lost the match.
As the loser it was my duty to make the winner cum, which was good fun. They made me a member of the gentle wrestling team, and gifted me the singlet, provided I wore it for a while to promote the team. Yeah, right, with a big wet spot on the front.

The Swimming Pool
My clothing bundle under the arm I headed into the swimming pool hall, still in my wrestling singlet, and right into the next embarrassment.
"Haha, looks like you've been milked by the wrestling team!" laughed the lifeguard pointing at my wet spot. "Good for you! They do that to freshers. You've earned your singlet. Have a shower and take a swim!"
The singlet felt great in the shower and even better in the pool, so soft, so smooth, no tight waist band. Swimming several lengths was easier than in shorts. I really enjoyed that.
Then I relaxed in the shallow end, watching the other guys swim by, many in colourful sports clothes. Yes, you've guessed it, another erection was on its way. So embarrassing. The wet singlet didn't hide anything. What would the lifeguard think? That I'm insatiable?

The Warm-up Pool
One hot senior guy, in nothing but a long white T-shirt that almost reached his knees, noticed my predicament as he got out of the pool next to me.
"You should get that seen to," he said looking at my boner and walked into the warm-up pool area, which was surrounded by frosted glass. A notice by the door said:
WARNING!
Sexual activity may be going on in here.
Please be respectful and go in quietly.
Faculty of Human Sexuality
As I entered, I bumped into the wet guy from the pool and accidentally held on to his wet shirt.
"Do you want a hand with that?" he asked while touching my hard penis. I quietly followed him into the pool and sat down next to him. We hugged each other and I slowly moved my hands down his soft wet shirt until I touched his hard penis inside. While we pleasured each other for a while, he explained to me that the staff decided, sex would be safer in a chlorinated pool, especially group activities. And with that thought we both climaxed blissfully.
I've heard that initialisation rituals at some universities could be rough, but here they were really enjoyable. Hazing simply involved getting sexually humiliated in wet clothes. On the way out the lifeguard said to get ready for more wet hazing rituals in the first month. Bring it on!

My Little Problem
Since you're mature readers, I feel I can share this with you. I'm horny a lot of the time, at home, at uni, and often during sports. Most of all, it really interferes with my homework. This horniness is driving me nuts. My parents have known about this for years, since my puberty, which is one of the reasons they've sent me to this university so I could overcum it.
Dad said I should masturbate every time before homework in order to concentrate better. The guys from the swim team said I should masturbate in wet clothes under the shower or in the bath, maybe with a friend. Really? I wasn't so sure about that but thought they should know since they always swim in clothes to get fit. When I asked the readers in the forum of this wetsite for help, they gave me lots of good practical advice about masturbating in wet clothes, for which I'm very grateful.
For my first shower I went through my wardrobe, mainly the sportswear, to find the kind of clothes they recommended for beginners like me. My silky soft nylon rain pants were oversized with extra room for when I get a boner. The long T-shirts, which my dad found for me, hide the boner a bit when I go into the pool.
Encouraged by some readers, I wore the rain pants with a sports shirt in the shower. This felt funtastic, but was so exciting that I shot the white stuff into my pants really fast. That's my other little problem: I cum too fast. Maybe during my studies I find a solution for that. Anyway, it works fine to focus on my homework.
From next week I want to start with more of the wet experiments some readers have suggested. Hopefully my new roommate won't mind. I wonder how he feels about it.